Health Insurance
.
Affordable, easy to compare health insurance quotes tailored to your needs.
Access to private healthcare 

Protection from large medical bills 

Enhanced coverage
What is health insurance?
Health insurance, also known as private medical insurance (PMI), is an insurance policy that covers the cost of private healthcare treatment. It allows you to access private facilities and treatments quickly, avoiding long waiting times on the NHS.
With a health insurance policy, your medical bills for private hospital treatment, tests, surgery and more will be paid for by the insurance provider. Policies vary, but they can cover inpatient and day patient treatment, specialists' fees, mental health services, complementary therapies and more.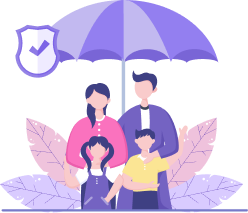 Do you already have life insurance with us?
Get a quote now!
Secure your peace of mind with Pure Cover, where unpredictable health meets reliable, tailored policies; don't leave it to chance, choose wisely, choose us, and start your journey to a protected future today
The benefits of our Life Insurance
Access to private healthcare
Health insurance gives you access to private hospitals, specialists, and treatments, allowing you to bypass NHS waiting lists.

Protection from large medical bills
By covering the costs of private medical treatment, health insurance protects you from potentially huge unexpected medical expenses.

Enhanced coverage
Going beyond just the basics, health insurance policies can offer coverage for dental care, mental health services, complementary therapies and more.
Is Health Insurance Right for You?
While the UK's National Health Service (NHS) offers support and treatment to all, you might find yourself considering private health insurance for a more tailored healthcare experience. Packed with benefits, it's a route many are choosing. Dive into our transparent guide to discover if health insurance is the perfect fit for you.
WANT TO GET INSURED?
Get a quote now!
Choose Pure Cover for reliable, tailored health policies; secure peace of mind and embark on a journey to a protected future today.
Want to safeguard your well-being with the comfort of private medical treatments? Private health insurance has got you covered!
Picture health insurance as your reliable wellness partner. It's there to make sure you get top-notch medical care and stands as your financial shield against unexpected health costs. But, here's the catch – no two health insurance plans are the same. So, let's navigate the maze of options and requirements together, to find the perfect plan tailored to your unique circumstances.
Why is Health Insurance necessary in the UK?
Ever wondered why health insurance is such a big deal in the UK? It's because it's your golden ticket to top-notch medical treatments and care without the worry of skyrocketing costs. With private health insurance, you can gain access to extraordinary healthcare professionals and treatments that go beyond the offerings of the publicly-funded National Health Service (NHS). 
But wait, there's more! Health insurance also helps you dodge those lengthy NHS waiting lists, and provides access to a spectrum of services and treatments that are out of reach for those who solely depend on the NHS. Plus, it's your safety net for those high-priced treatments that the NHS might not be able to cover.
Types of Health Insurance Available in the UK
NHS Health Insurance: This is free healthcare cover provided by the government to every person living in the UK who is registered with a GP. It covers a range of healthcare services, including GP visits, hospital treatment, and prescriptions.

Private Health Insurance: This type of health insurance is taken out with a private provider and provides enhanced coverage compared to the NHS. It covers a broader range of services, including private hospital stays, elective surgery, and even travel insurance.

Income Protection Insurance: This type of insurance covers your salary if you become unable to work due to injury or illness. It is designed to help safeguard your income if you are unable to work, and can be a welcome safety net in these circumstances.

Critical Illness Insurance: This type of insurance provides a lump sum payment if you are diagnosed with certain critical illnesses, such as cancer, heart attack, or stroke. This cover can provide financial support in case of serious illnesses and can be crucial in helping you and your family manage during an uncertain time.
Benefits of Health Insurance
Let's delve into the benefits of securing Health Insurance in the UK: 
Open the Door to Health Services: Imagine a world where GP visits, hospital treatments, prescriptions, and tests are at your fingertips. This is the reality with a health insurance policy.

Secure Your Finances: Say goodbye to the stress of unexpected medical bills. Health insurance serves as a financial shield, protecting you when you need it most.

Choose Your Specialist: Health insurance isn't just about coverage, it's about choice. Choose a specialist according to your needs, bypassing National Health Service wait times.

Travel with Confidence: Jet off with peace of mind, knowing that your international health insurance has your back for any emergency medical treatment abroad, depending on your chosen policy.

Enjoy Tax Perks: Who said insurance can't be rewarding? Enjoy tax relief benefits on the premiums you pay for your health insurance.

Experience Comprehensive Coverage: Health Insurance goes beyond the basics, offering comprehensive coverage in areas like mental health and dental care.

Relish in Long-Term Peace of Mind: Invest in a health insurance policy and enjoy the tranquillity of knowing your finances and family are secured, should you need to access medical services.
Considerations When Getting Health Insurance
Embarking on a quest for health insurance in the UK? It's a journey filled with crucial checkpoints. From making sure your policy covers pre-existing conditions to having a safety net for mental health-related issues, and even those nice-to-have extras like dental insurance or physiotherapy, it's a landscape that demands your full attention. So grab your reading glasses, dive into those policy documents, and make sure you're securing the best coverage tailored to your unique needs.
Pre-Existing Conditions
Ever wondered how your pre-existing condition plays out in the UK health insurance landscape? Here's the scoop: most private health insurance providers will cover you, but there's a catch. The terms and coverage may vary, with some insurers possibly imposing higher premiums, a longer waiting period before the coverage kicks in, and a cap on their payout. 
Now, let's say you have a potentially costly pre-existing condition, like cancer or multiple sclerosis. You might find it challenging to secure private health insurance. Don't fret though, the NHS is likely to step in and cover the cost for existing customers. Remember, it's crucial to declare any pre-existing medical conditions as they could influence your cover type and premium costs.
Mental Health Conditions
Did you know that in the United Kingdom, your mental health history can play a pivotal role in your private health insurance application? Each provider has its own set of criteria, and your past and present mental health status might be among them. Conditions like depression, anxiety, schizophrenia, manic depression, and Borderline Personality Disorder can influence the decision. 
Interestingly, even if you've conquered your mental health struggles, insurers might still be wary. They often ponder over the likelihood of a potential relapse, which can affect their final decision. So, the journey to mental wellness continues, even after recovery, especially when it comes to securing health insurance.
Variety of Treatment Coverage Types
In the UK, there are a variety of different healthcare coverage options in health insurance. These range from private healthcare policies, which may offer comprehensive coverage, to NHS coverage, which is provided to all UK citizens and is largely free at the point of service.
Private health insurance policies may offer a range of different levels of coverage. Typically, the more comprehensive plans will include coverage of treatments such as cancer care, mental health, accident and emergency services, and maternity. Policies will also often include cover for regular checkups and preventative care.
NHS coverage is usually limited to services provided within the NHS, such as general practitioner visits, hospital care, and certain cancers. Mental health services, medications, private hospital care, and complementary therapies such as acupuncture and massage are typically not included in NHS coverage.
In addition to these two general types of health insurance coverage, there are also a variety of specialised insurance policies available in the UK. These may include coverage for pre-existing medical conditions, long-term care, travel health insurance, and industrial insurance. Each of these policies provides different levels of coverage, so it's important to understand the specific details of each policy before making a decision.
How to Get a Health Insurance Plan
Imagine health insurance as a puzzle. You're piecing together the coverage you need, then hunting down the best provider who can complete your picture. Let's explore some top-notch family health insurance providers who can help you complete this puzzle. 
Bupa

– A global healthcare giant hailing from the UK, Bupa provides health insurance, care homes, and a range of health services.

AXA PPP Healthcare

– Offering comprehensive private health insurance that doesn't break the bank, AXA PPP Healthcare is an insurance company worth considering.

Aviva

– A big name in the UK insurance and savings realm, Aviva offers competitively priced health insurance.

Vitality

– Not just a health insurance provider, Vitality Health also offers wellbeing and lifestyle services, including personalised health coaching.

Cigna

– An international private health insurer, Cigna offers a selection of plans to suit different needs and budgets.

WPA

– Offering wide-ranging cover options, WPA is a medical insurance company catering to individuals and businesses alike.

Simplyhealth

– From health and wellbeing plans to cash plans and healthcare trust schemes, Simplyhealth offers a diverse range of insurance products.

HSF Health Plans

– Offering flexible private medical insurance plans, HSF Health Plans provides a multitude of benefits to policyholders.

WPA Medical Insurance

– A UK-based provider of private medical insurance, WPA offers both individual and family plans.

Liverpool Victoria

– Providing private medical and health insurance policies tailored to individual needs, Liverpool Victoria is another insurance company to consider.
Rest assured, all these companies are members of the Financial Services Register and are under the watchful eye of the Financial Conduct Authority, ensuring they provide reliable health insurance in the UK.
Why get Private Health Insurance?
Imagine having a safety net, ready to catch you in times of health uncertainties. Private health insurance is exactly that – a promise of comprehensive care for a variety of health challenges. It's a beacon of hope, especially when dealing with pre-existing conditions that call for continuous attention and expert medical intervention. 
With private health insurance, your loved ones have the assurance of receiving top-notch treatment. What's more, a vast network of medical professionals is at their disposal, ensuring they're never too far from the care they need. It's like having a personal medical team, just a call away!
What is Private Health Care?
Imagine a safety net for your health – that's what private health insurance offers. It's a personal solution for health care, providing a plethora of benefits. From coverage for pre-existing conditions to access to private treatments and specialist healthcare services, it's an assurance that you're financially shielded from unexpected medical costs. 
Consider it as your VIP pass to comprehensive health coverage. It complements public healthcare, granting you access to private hospitals and medical practitioners. The result? Quicker treatments and reduced waiting times, mean you get the care you need when you need it. 
Keeping private health insurance coverage is like having a healthcare guardian angel. It comes packed with numerous benefits including coverage for hospital fees, emergency medical fees, ambulance services, and even fees for medical practitioners. Some policies even offer cash benefits for everyday healthcare expenses like dental check-ups, eye care, physiotherapy, and chiropractic treatments. 
Before you sign up, have a heart-to-heart with a private medical insurer about your and your family's health needs. This ensures you pick a health plan tailored to your unique healthcare requirements. 
Remember, the cost of private treatment varies based on age, the number of people covered, and the types of services offered. Premiums can be paid fortnightly, monthly, or upfront annually. Plus, you might be eligible for a government rebate to lighten the load of your premium cost.
What is Health Insurance?
Ever heard about Health Insurance or Private Medical Insurance (PMI)? It's a fantastic tool that aids in covering your private medical treatment expenses. In the UK, it complements the services of the NHS, instead of replacing them. 
Imagine skipping long queues for treatment, having the luxury of private hospitals, and the freedom of choosing your treatment options – all thanks to health insurance. While the NHS handles essential services like emergency care, numerous treatment aspects can be expedited or enhanced with private medical insurance. 
Did you know? More individuals are now opting for health coverage, either individually or through corporate plans. To help you decide if health insurance is the key to your peace of mind, we've gathered all the essential information right here for you.
What does it cover?
Imagine having a safety net that aids in covering your medical expenses in certain circumstances – that's what health insurance does. Just like other types of insurance, the coverage you receive heavily depends on the policy you choose. It's crucial to have a clear understanding of what your policy covers when you're exploring private medical insurance options. 
A standard health insurance policy generally covers in-patient costs like diagnostic tests, surgeries, and necessary medication. Keep in mind, these often come with certain stipulations such as requiring treatment at specific hospitals. 
For those wanting a comprehensive safety net, a more inclusive policy might be right for you. These offer coverage for additional services like outpatient treatments, physiotherapy, and dental care. 
Health insurance is primarily designed for short-term treatable conditions. If you're seeking coverage for more serious ailments like cancer, specific policies are usually required.
What doesn't it cover?
Expect to see a list of exclusions on any health insurance quote you receive. These will include issues such as pre-existing medical conditions, chronic illnesses and normal pregnancy-related treatment.
Let's clarify a few things. Your regular health insurance won't cover any cosmetic procedures you opt for to enhance your looks. Moreover, if you're into adrenaline-pumping sports or risky activities, they're likely to be excluded too. 
Now, there are certain areas which are typically not covered unless you've opted for a tailored private medical insurance policy. These include: 
Pre-existing conditions

Chronic illnesses

Pregnancy and childbirth

Emergency treatment

Cosmetic surgery

Organ transplants
How much does a health insurance policy cost?
Health insurance costs can be as diverse as our individual health profiles. The average UK health insurance policy costs around £1,435 annually (nearly £120 a month). However, prices can fluctuate greatly. For instance, if you are young, fit, and opting for a basic policy, you might be looking at hundreds rather than thousands of pounds per year. 
It's challenging to provide an exact cost for health insurance without knowing your personal circumstances. However, we can provide a list of factors that will significantly influence the price of your policy:
Is there an age limit to taking out private medical insurance?
With many health insurance companies, there is no upper age limit to taking out a health cover policy, but the older you are the more your cover will cost. Some companies do impose age restrictions on their policies, with the upper limit usually being set between 65 and 75 if this is the case. But as people are staying healthier for longer it is possible to find an insurer at any age.
What are the pros and cons of private medical insurance?
Imagine receiving top-tier medical care, swiftly and efficiently—that's the beauty of private health insurance. Picture yourself nestled comfortably in a private hospital room, or bypassing lengthy queues for specialist appointments, such as physiotherapists and mental health treatment. With private health insurance, you're not just a number—you're given personalised care and choices for your health journey. 
However, it's not all rosy—private medical insurance can come with its own set of limitations. Getting covered for intricate or pre-existing conditions and pregnancy-related issues might feel like navigating a maze. Moreover, your choice might be narrowed down to specific hospitals or doctors, and there's a chance that your insurance won't fully cover certain treatments. It's essential to understand these nuances before diving in. 
Pros
Say goodbye to long queues with significantly shorter wait times!

Obtaining scans and tests becomes a breeze, making your journey to recovery smoother.

Enjoy the tranquillity of private rooms, your personal sanctuary during treatment.

Explore a wider array of treatment options, tailored to fit your unique needs.

Gain exclusive access to specialists who are usually difficult to reach through the NHS.

Unleash the potential of specialist drugs and treatments that might not be readily available elsewhere.
Cons
Even with health insurance, you might still need to rely on the NHS for emergency care.

Watch out, as health insurance often doesn't cover complex conditions and pregnancy.

Want comprehensive coverage? Brace yourself, it can be quite costly.

Keep in mind, your treatment options may be limited to specific hospitals.

Beware! Your cover may not always foot the entire bill.

Health insurance can be pricey, and the costs can escalate as you age.
What types of health insurance policies are available?
Choosing health insurance can feel like navigating a maze, but it's all about understanding the underwriting process. Depending on the policy, you might need to provide a detailed medical history or you could get coverage quickly but with exclusions for pre-existing conditions. Here's a peek into the different types: 
Full Medical Cover
Full medical cover is like getting a tailor-made suit but for your health. It offers extensive coverage, though it requires a detailed medical history and might be pricier. The insurer uses your medical records to craft a policy that fits you, often specifying what pre-existing conditions they won't cover. 
Moratorium
Imagine getting insurance with less paperwork and lower monthly premiums. That's moratorium cover for you. Your medical history is only assessed when you make a claim, but be aware, it usually excludes treatment for any illnesses you've had within the past 5 years. 
Specialist Policies
Like a buffet of insurance goodness, insurers often offer policies tailored for specific needs and conditions. From cancer to dental costs, or even pregnancy, you can find a policy that suits your needs. These policies, however, vary in cost and coverage based on the underwriting process.
Can I get health insurance through my job?
Did you know that your employer might be your ticket to affordable health coverage? Many companies offer health insurance as a perk, often providing cash plans that allocate specific amounts for various types of treatments. For instance, you might have £300 a year for eye care or £500 for dental visits. Some even offer comprehensive health insurance to their teams. If you're in doubt, don't hesitate to have a chat with your HR department about this potential goldmine!
Why shouldn't I just rely on the NHS?
Imagine a healthcare journey tailored to your needs, where long wait times are a thing of the past. With the NHS, treatment can often feel like a waiting game. In contrast, health insurance propels you to the front, providing quick access to private rooms and top-notch facilities, if hospitalisation is required. 
If you're an athlete or simply an individual who prioritises well-being, private medical insurance can be a game-changer. It provides easy access to skilled physiotherapists and mental health professionals. Health insurance isn't just a safety net—it's a tool to enhance the quality of your non-emergency care and shrink the waiting time. 
It's important to remember, health insurance doesn't mean bidding farewell to NHS services. You're still entitled to utilise them all. Also, for urgent emergencies, the NHS is your go-to as private hospitals may not be equipped to handle such cases.
How can I get health insurance?
We can help with that. The best strategy is to decide what you're looking to be covered for (for instance if you're looking to insure against anything specific like sports injuries or cancer) and then use our reviews to compare the different options that offer the right policies.
Don't forget first to check whether you can get free or reduced private medical insurance through the company you work for. If not, then you'll want to find a policy that both covers what you need and is affordable. We research each insurer and policy thoroughly in order to explain to you, in plain English, what your best options are.
Frequently Asked Questions
Can I get free or reduced private medical insurance through my workplace?
Always check with your employer first to see if they offer any health insurance perks. Many companies provide this as part of their benefits package. If not, then you'll need to explore other options.
How do I find a policy that is both affordable and covers what I need?
Comparing different policies can be tricky. That's why we do the hard work for you. We research each insurer and policy thoroughly to present you with the best options tailored to your needs and budget.
Can you explain health insurance terms in plain English?
Absolutely! We pride ourselves on making insurance easy to understand. We'll guide you through the process, explaining jargon in a simple, approachable way.
Already have a clear idea of what you need? Fantastic! Simply click the link below, and we'll swiftly guide you to a personalised quote.